OmniStop™ Hostile Vehicle Mitigation
The unique OmniStop Portable Traffic Security Bollard System can stop an errant 5,000 lbs (2270 kg) vehicle at 30 mph (48 km/h), and features a diameter of 6" (150 mm) and a wall thickness of ⅘" (20.5 mm).
---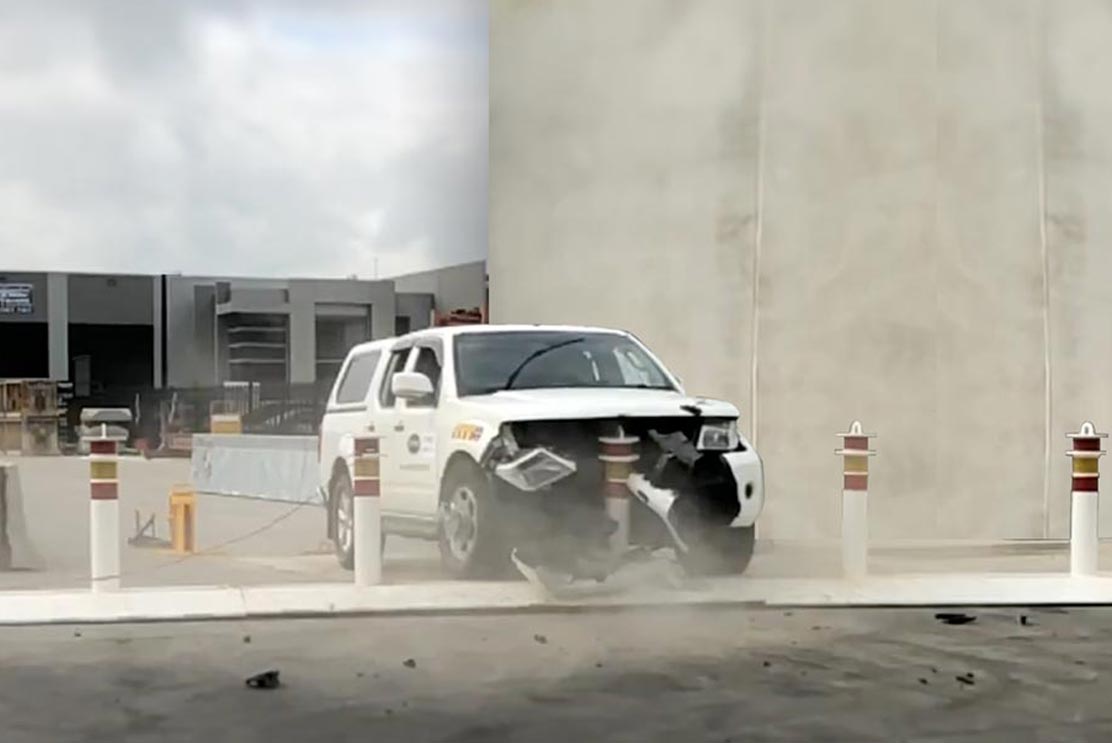 Protect Pedestrians
Around the world large events are held every day that draw huge crowds. Such events can be the target of extremist groups and those seeking to invoke terror. Event managers must provide security while ensuring quick and orderly pedestrian traffic flow. Using the OmniStop Portable Security Bollard System is the best solution for event security to protect against a hostile vehicle attack, inattentive drivers using a mobile phone, or those suffering sudden health related issues.
The OmniStop is an innovative new traffic security bollard designed for errant vehicle protection. Easy and quick to install, this bollard system provides affordable protection and acts as a deterrent in high risk areas and protection in high density pedestrian areas. It does not interfere with pedestrian movement and has been designed for temporary applications.
Reliable
OmniStop has been independently crash tested to confirm it can stop a 5,000 lbs (2,270 kg) pickup traveling at 30 mph (48 km/h).
Unobtrusive
OmniStop is unobtrusive, allowing free flow of foot traffic, including easy access for strollers and wheelchairs.
Completely Portable
The OmniStop is freestanding and unanchored, allowing easy installation for temporary applications. The only requirement is a flat surface!
Why choose OmniStop?
Fully crash tested to contain errant vehicles
Fully portable
Protects pedestrians and assets
Provides emergency vehicle access
Easy access for strollers and wheelchairs
Provides free flowing, unobstructed pedestrian traffic
Quick and easy deployment
Easily replaced post impact
Affordable
Specifications
The OmniStop is constructed from a series of individual bollard units. Each unit is constructed from steel and contains a concrete ballast. The system is crash tested to contain a 5,000 lb (2,270 kg) vehicle traveling at 30 mph (48 km/h) per the test requirements of ASTM 3016. The OmniStop is completely freestanding and unanchored allowing for free flowing pedestrian foot traffic. The system also provides emergency vehicle and wheelchair access options. Each 10' (3.04 m) unit is interlocked and provided with bidirectional connectors. The outer surface contains an anti-slip coating and can be color customized. A minimum deployment of 5 interlocking units is required along with a recommended 12' (3.6 m) "red zone" to protect pedestrians from airborne debris. A Converter/Installation Certification program is provided to ensure proper steps are in place to provide maximum pedestrian protection.
---
Length

10' 1" (3.08 m)

Width

3' 9" (1.15 m)

Height

3' 6" (1.07 m)

Weight

2,750 lbs. (1,250 kg)

Diameter

6" (150 mm)